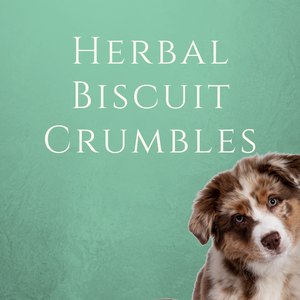 Our Herbal Biscuit Crumbles are the extra it's-and-bit's of our original biscuits. Made from the same batches, these crumbles are the left overs that are not perfectly shaped but have all the high quality goodness that you expect from Furbal Remedies biscuits.
Our crumbles are perfect as training treats for the ultra food motivated dog, to be used in enrichment toys like Kongs or simply fed as little treats to your puppy or tiny pooch.
Get the same flavor, nutritional profile and benefits as our original biscuits but just in tinier crumbles for a discount! Select your blend from Relax All Day, Ginger Joint, Allergy Relief or Optimal Wellness & enjoy!